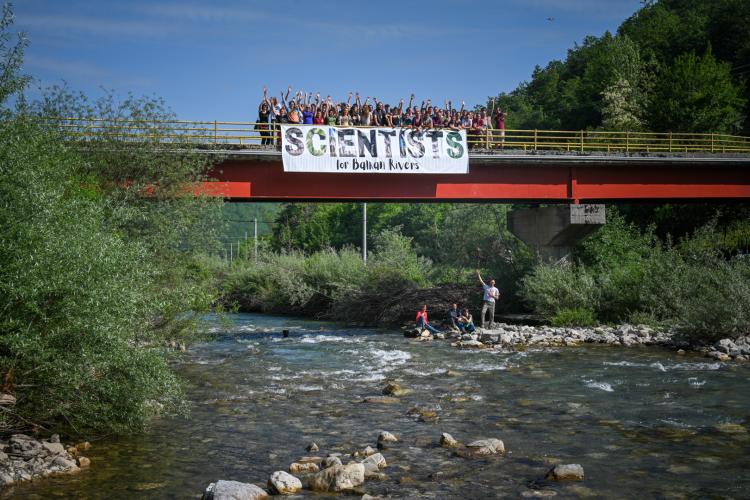 Photo: Vladimir Tadić / Centar za životnu sredinu (Center for Environment)
With the first signs of dawn, waking up begins in the research camp. One after the other, scientists open their tents and slowly make way to their place of breakfast, located only several meters away from the camp. There, they are welcomed by the positive faces of locals, who woke up before them to prepare food, as well as the organizers, who are there to make sure that no one wants for anything at any moment. Under the dining tables, human legs are entangled with cat and dog paws. The sound of people, animals, insects and the river have turned into a melodic alarm that seems to be saying – Ulog has awakened.
Written by: Jelena Jevđenić
After breakfast, the organizers and scientists begin arranging their visits. They organize transport with the local population. With journalists, they arrange which places should be recorded and when and how statements will be taken. A part of the organizers leave to go in the field, and a part remains in the camp. In the field, the forests, rivers, shores and caves, research lasts until the evening. After using the day to investigate and gather samples, the scientists return to the camp. A warm dinner awaits them there. During dinner time, they exchange experiences from the field. Someone is writing down their thoughts, while someone else has already installed their equipment and going through the samples. Others are preparing for the next day…
This is what the days in the camp looked like during the science week that occurred in Ulog, from the 30th of May to the 7th of June 2023.
This is how scientists and local people coexisted for seven days, like the life we can find in rivers and on the ground. This was, indeed, one of the goals for this research.
Photo: Vladimir Tadić and Ratko Pilipović
More than 70 scientsits from 17 countries researched the upper course of the river Neretva. Their goal was to gather arguments for protecting this region, which is under threat by plans to build a series of hydropower projects. This science week at Neretva was organized by Centar za životnu sredinu from Banja Luka (Center for Environment) in partnership with international organizations Riverwatch and EuroNatur, within the campaign of "Save the Blue Heart of Europe".
This is a story about the science week, but it is also a story about Neretva.
Neretva
She is the green beauty, the karst river, the symbol of Herzegovina, Herzegovina's Nile. This is all Neretva. They say that she is the only karst river that managed to overcome sinking. With her tributaries, she creates separate natural entity and a very unique ecosystem.
Because of its uniqueness, Neretva has become a target for profit. Her course and her tributaries are under threat of destruction because of capital. The menace of hydropower plants has targeted this magical river.
What a river means, especially a river like this, to nature, the ecosystem, its population along its shores and society, is quite clear to the locals at Neretva's shores, ecologists and activists.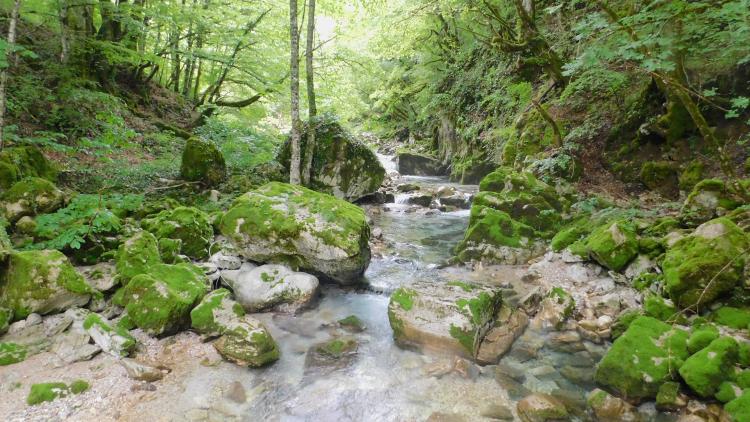 Photo: Ratko Pilipović
The upper course of the river Neretva has already been degraded with the construction of hydropower plant Ulog, which is in its advanced stages of construction. Besides this hydropower plant, they are planning to build a system of seven small hydropower plants upstream, which would completely destroy the upper course of Neretva. Small hydropower plants are planned at almost all of Neretva's tributaries.
Not wanting to wait for the institutions to do their jobs, ecologists took matters into their own hands. This year's science week was precisely held because it was necessary to gather all the necessary data in order to protect Neretva.
Ulrich Eichelmann, scientist, ecologist and coordinator of the campaign "Save the Blue Heart of Europe", stated for Impuls that Neretva is as beautiful as she is a very complex river and above all, she is a river with the largest percent of biodiversity, making her protection a priority.
"Neretva is a complex system and she has been, for the most part, untouched so far. Yes, there are big dams, such as Jablanica and three others, but the upper part of the river, including the tributaries which flow into her, and the lower part, are all still unique. This is something that makes her extraordinarily special in Europe, even the world. However, this is maybe the most endangered river in Europe, along with her tributaries and fields, because of the plans to build hydropower plants such as HP Ulog and the Upper Horizons (Gornji horizonti) project. I have never seen a river being attacked so drastically." - Eichelmann states.
Furthermore, he points out how much Neretva, along with her tributaries and fields, is a unique system, and in order for us to get to know Neretva, we must explore the unknown which is a part of her.
"The river is complex because of her tributaries and because of another thing that rarely any river has: fields - the Dabar field, the Nevesinje field and the Gatačko field. These fields are connected to Neretva underground and they belong to Neretva. Zalomka flows through fields and valleys of grass, curving through to submersion. Later on, she comes into Buna, Bunica, Bregava, and then Neretva. Most people have heard of Mostar and the Old Bridge, but not many of them know about the river that flows beneath that bridge, let alone knowing about how diverse and connected she is with its surroundings." – He explains.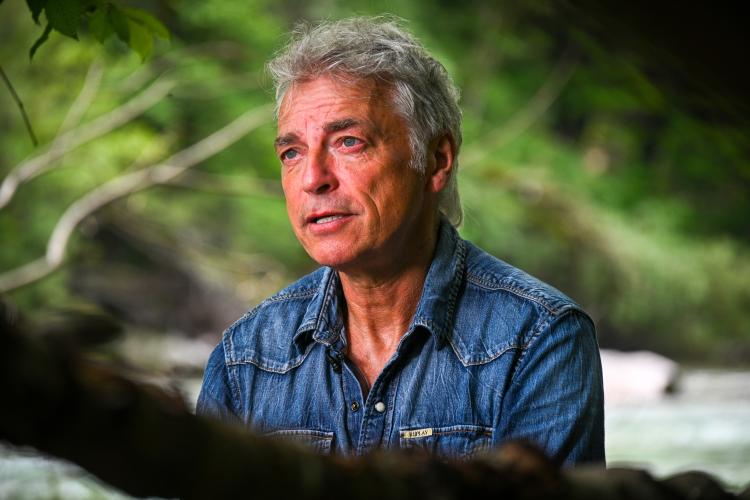 Ulrich Eichelmann, Photo: Vladimir Tadić / Centar za životnu sredinu (Center for Environment)
The leading scientist of the science week at Neretva, professor and doctor Gabriel Singer from the University of Innsbruck, points out that with this research, he wants to raise visibility to the importance of such a river with a huge biodiversity, which will unquestionably end up destroyed if the hydropower plants are constructed.
"The most important thing is to create visibility."
"The hydropower plant Ulog, which is under construction, will have a huge influence on the river. We are currently located at the beginning of her future lake. With this construction, the habitat will be lost, especially the part of the river where it's being constructed. Also, we will lose the part of the river that is between the dam and the part where the water is returning. These are influences which are immediately visible, but there are some influences that are not visible right away, such as the fact that HP Ulog will produce energy the way the market and the stock markets demand, and this means using the so-called "hydropeaking"* practice."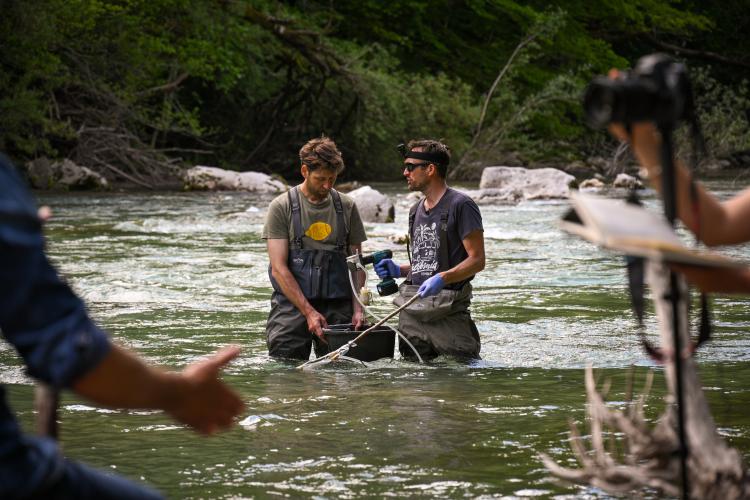 Gabriel Singer - left, Photo: Vladimir Tadić / Centar za životnu sredinu (Center for Environment)
Hydropower plants which work on the principle of "hydropeaking" operate intermittently and create a periodic change of the water regime. This causes very short-term changes of high flow, to very low water regimes. These sudden and very unnatural fluctuations of water levels can severely impact life at the river. Singer explains how much this regime is destructive for the river and for life in and around it.
"This is most detrimental to the fish in this part of the river, because the water will come and retract as the plant operates, and they will not survive. This is especially bad for Neretva, because here we have a special type of fish, soft-mouthed trout, which lives downstream and will be heavily impacted by this project." – He points out.
Jelena Ivanić from Centar za životnu sredinu (Center for Environment) stated that if it comes to the implementation of these plans, this unique river system would be completely destroyed.
"The goal of this science week is to gather additional information about the unique ecosystem of this region and additionally show that this region urgently needs to be placed under the appropriate protection."
Hydropower plants are facilities that cause the most destruction to river ecology and biodiversity, with irreversible consequences. With their construction, the natural flow of the river is interrupted. With dams being made, this destroys the habitats and population of species which are adapted to life in flowing waters. Such facilities also change the microclimate of the region, the temperature of the water, and all of this influences the life in the water, around the water ashore, and around the plants.
Moreover, hydrophilic vegetation is very sensitive to water regime changes. By altering the water regime, the natural flooding and everything it gives to the vegetation would be completely lost. Consequently, if the hydropower plant is constructed, significant changes along the river can be expected.
If we are not aware of the biodiversity of the river and its environment, we cannot know how much the consequences of the hydropower plant will be destructive.
The science week is a cooperative work of scientists, who research and gather data, attorneys, who receive data from the scientists in order to start legal procedure for protecting the river, and journalists, who present all of this to the public eye.
"Perhaps, by doing so, Bosnians and Herzegovinians will understand what they have here. People don't know, because the government did not inform them, and they should have. In the 21st Century, within the context of nature, if something disappears, it has disappeared forever. Today we have alternative sources for getting energy, but we do not have an alternative for nature." – Eichelmann points out.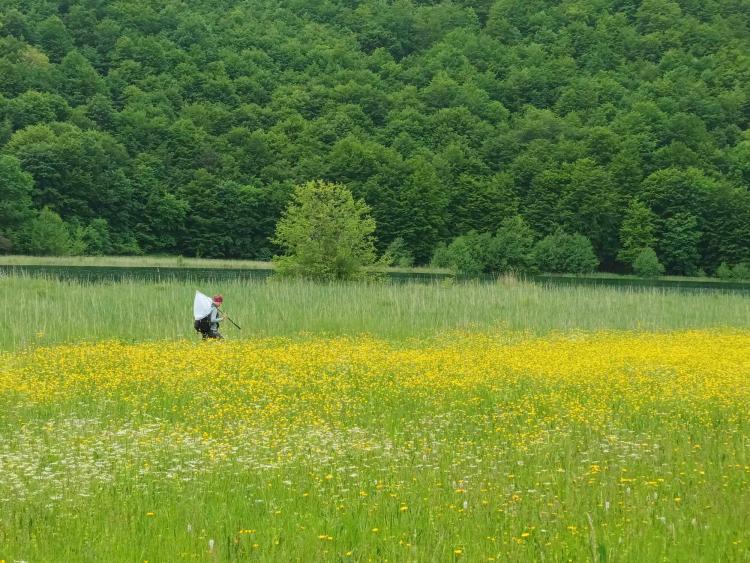 Photo: Jelena Jevđenić / Impuls
Research
Last year's research during the science week resulted in the discovery of over 1000 species, besides the fact that 300 other species were previously already known. From the previously discovered group, 24 of them were new to Bosnia and Herzegovina and 8 were completely new for science. One of them was officially confirmed and named after the river Neretva - Baeoura neretvaensis. The analyzed physical and chemical parameters of the water showed an extraordinary cleanliness of the water, placing it in the first category regarding quality.
However, even though the goal of the research is the same, the exploration of Neretva and her surroundings was a little bit different this year.
"Last year, we tracked and researched the river from its source, following its course, watching how it rises after a few kilometers. At her source, she is so small that she can be jumped over, but only several kilometers downstream, she is so big and deep that a boat can be driven there. This year, we are doing something else. Our focus was more on the entire river basin of Neretva: her tributaries, the environment next to the river and the forests. We want to understand how the river communicates with its surroundings." – Singer states.
"We looked at water insects. These are insects that live in the water when they are larvae. When they become grown species, they leave the watery surface. Some species leave and fly far away, even up to the forests to search for mating partners and hideouts. In the forest, food for spiders or birds is important. This is how we saw how far the river and her environment are connected." – He adds.
If we could put this quote into one sentence, it would be this: "the river feeds its surroundings".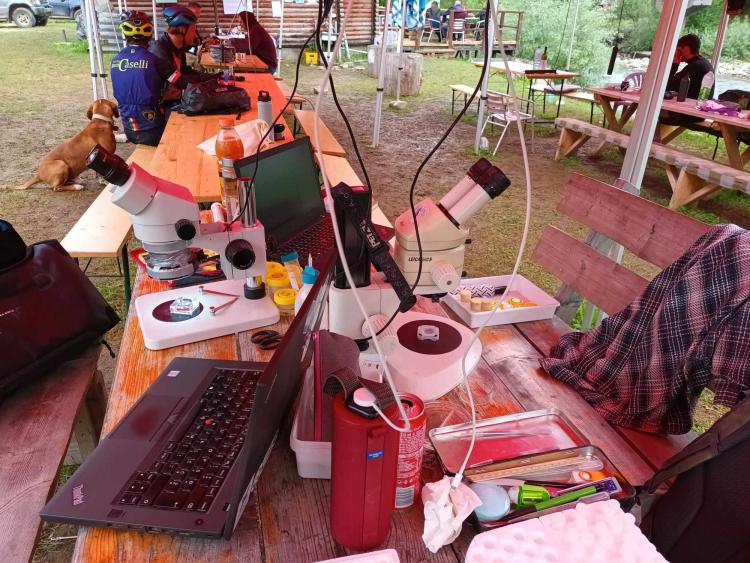 Photo: Jelena Jevđenić / Impuls
From the Center for Environment, they stated that they will present this year's results by the end of this year, but some of their discoveries were shared with us by scientists.
Dragan Koljanin, a student of the fourth year of the Faculty of Forestry in Banja Luka, revealed to us that a special species of tree grows near Neretva.
"During the last few days, we have been researching the vegetation. Our primary goal was to discover what kind of plant communities grow here right by the river. Sometimes, we went further away from the river to explore slightly different ecosystems, because they are also important if we are talking about the entire region." – Koljanin states, also pointing out that the most specific thing about these ecosystems is how they are well preserved and in an excellent state regarding the lack of invasive and foreign species.
"It is important to emphasize that a special species of alder tree (Alnus rohlenae), grows within this space. This species has only recently been discovered by science. The existence of this species has been verified by genetic analysis completed by our colleagues from the Czech Republic. This species only grows on the Balkan peninsula, and only on a small part of it." – He states.
Eleana Kazila, a biologist from Greece, is one of the scientists that followed the connection of life in the water and ashore.
"I came here to research dragonflies and to also participate in the group that was researching the phases of larvae and some insects which are dependent on the water for their life cycle." – She states.
Kazila further states that she discovered a species of dragonfly that live in small river flows, but we will receive a verification of this along with the other results.
"This species is on the red list of endangered species in Europe and you cannot find it often. They need a special environment in order to live and breed." – Kazila explains.
Photo: Ratko Pilipović
During their seven days of research, scientists, journalists and many other visitors explored different locations, such as lake Kladopoljsko, Neretva's tributaries, Jezernica, Ljuta, Nevesinjsko field, the river Zalomka, Uloško lake, Morine plateau, the shores of Neretva and forests.
The research has been expanded to new groups of biodiversity, such as the vegetation of the upper part of Neretva, moss and mushrooms of that region. Numerous ornithologists from European countries gathered a lot of data on birds within this region. A group of the scientists dove into the depths of the Uloško lake. Herpetologists had their work cut out for them, because a lot of amphibians and reptiles inhabit this area.
The organizers visited Neretva's tributary, Jezernica, with a group of students from Sarajevo, explaining the meaning of the science week and the protection of the river.
Artist Vanja Lazić spent a day in the camp illustrating t-shirts with bats, swallows, insects and other merry life at Neretva.
The science week was visited by ecologists from the Coalition for the Protection of Rivers in Bosnia and Herzegovina and the Aarhus Center in Bosnia and Herzegovina.
Photo: Jelena Jevđenić / Impuls
The Locals
Ulog, a village at Neretva's shore, once a developed municipality that had several thousands of inhabitants, only has 13 inhabitants today. They are not happy about the planned hydropower plants. Previous practices of building hydroelectric power plants have shown that the local community only ends up having problems because of them. The locals of Ulog know this. They also know how Neretva can be merciless when someone tries to tame her. During 1934, there was a major landslide, and Neretva was stopped and blocked. Subsequently, the accumulation of water broke through the rocky "dam", and a massive amount of water rushed down the canyon, flooding Ulog. There is a danger for the locals living downstream to the accumulations, such as incidents or dam breakings that would send a massive amount of water downstream, flooding entire villages. The locals of Ulog are clear on the fact that they have no use from the hydropower plant. Its construction could lead to complete desertion of this place.
Just as they did last year, they wholeheartedly welcomed guests this year as well. They gave up their rooms and fields for use. They tried to be of service. They marveled at the work of scientists and their dedication. They are aware, as they state, that these seven days of research were just a part of their work.
This was confirmed by Eichelmann.
"It is important to point out that these scientists are unpaid. They come here, research for seven days and this is just a part of the work. When they come home, some of them have thousands of samples that need to be researched and then they have to write a report of their research."
The locals know that they came to Ulog to help. They also feel this, because such a dedication to work without any material profit is a sign of pure altruism. Even the unstable weather of constant daily shifts between heavy rain and sun did not pull them away from their work. Therefore, when you selflessly work for the good of all, a connection is naturally made. On the last day of the science week, the locals of Ulog kept repeating how "everything will be deserted when you leave tomorrow".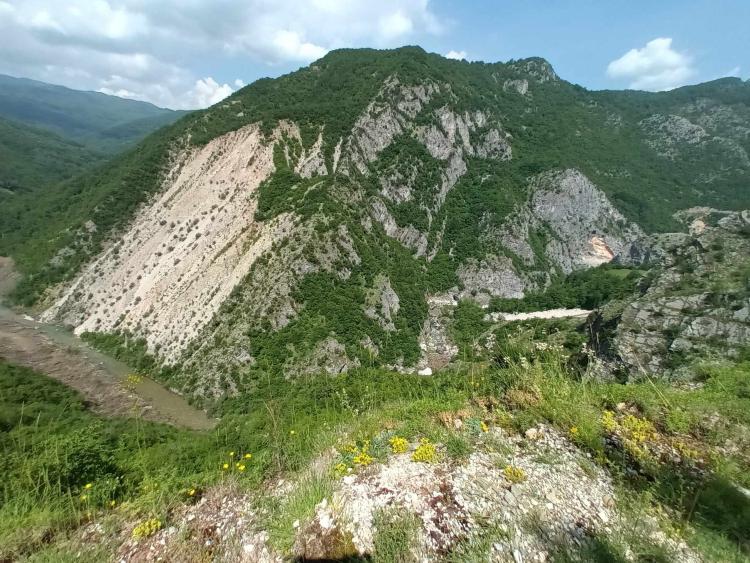 Photo: Jelena Jevđenić / Impuls
The Alternative
However, the end of the science week does not necessarily mean that Ulog will be deserted. If we manage to place the upper stream of Neretva under protection, this place could have visitors all throughout the year.
As Singer states, the research is the essence of this event, but also to present other options besides a hydropower plant to the local population.
"In my opinion, this place could be developed into a national park that would generate eco-tourism, creating a long-term profit for the locals. This vision must be created and presented to people." – He emphasizes.
Singer's opinion is shared by Eichelmann. Rivers should be used, but wisely, so that we do not destroy them.
"An alternative to hydropower plants could be a national park, which would be located from the upper part of Neretva to Konjic, with all of her tributaries. This would create eco-tourism, which would bring profit to citizens. We should not destroy the nature." – He states, giving the example of the river Vjosa in Albania, which had a similar fate as Neretva because hydropower plants had been planned upon her as well. Today, the river Vjosa is a national park.
The initiative to declare Neretva a protected environment was started by the Center for Environment within their campaign "Together for the Rivers". To produce the study for protecting the upper stream of Neretva, data from field research in 2021 and 2022 was used.
"This study has been submitted to the Ministry of Spacial Planning, Construction and Ecology for further processing. We expect that this highly valuable natural region will be placed under adequate protection in the near future." – Ivanić says.
Centar za životnu sredinu (Center for Environment)
For years, the Center for Environment has been tirelessly working to protect nature. During their years of work, they have helped many organizations, activists and local communities in their fights to protect their nature. Some of the campaigns they have worked on have resulted in nature winning against profit. During 2005, they managed to protect the river Vrbas from construction of new hydropower plants, through their campaign "Let Vrbas Flow". They founded a citizen initiative for the neighborhood Borik in 2015, which managed to save a children's playground and a park from concrete. This center has supported fights which have successfully been terminated for river Željeznica in Fojnica and river Kruščica, where small hydropower plants had also been planned. For the second year in a row, they organize the science week in Ulog for protecting Neretva, along with partners and they have many other current campaigns.
It is difficult to research and define Neretva in seven days, in order to truthfully discover everything that this river carries and to what extent she actually influences the space around her. However, during this little time, so much natural diversity has been discovered and notices, therefore this place must be protected in its entirety.
The visitors of science week left Ulog with the hope that their efforts and work will contribute to a better understanding of how important it is to preserve these regions and Neretva. Everything has its limits, therefore so does the river. This must be respected.
Photo: Vladimir Tadić / Centar za životnu sredinu (Center for Environment)
Translation: Lidija Drakulić
*Hydropeaking is the practice of releasing water impulses in order to increase the production of hydroelectric energy on hydropower plant dams, so that the biggest daily requirement of electric energy can be satisfied.